1) Human Trafficking: Resources Website
NEW! The first website on human trafficking resources specific to South Africa was launched in 2015. We have uploaded links to current and older press releases, video clips, recommended books to read and movies to watch. We have also uploaded academic research with a focus on South Africa. There are also some learning links. CLICK HERE TO ACCESS THE RESOURCES WEBSITE
2) Network News
This is a collation of anti-trafficking news, updates, events and resources from South Africa and further afield. It gets released fortnightly and is a great tool to stay up to date with what is happening in the field. Should you wish to be added to the mailing list for this resource, kindly fill out the Contact Us form to let us know.
3) A Reality Unseen: Story Board Banners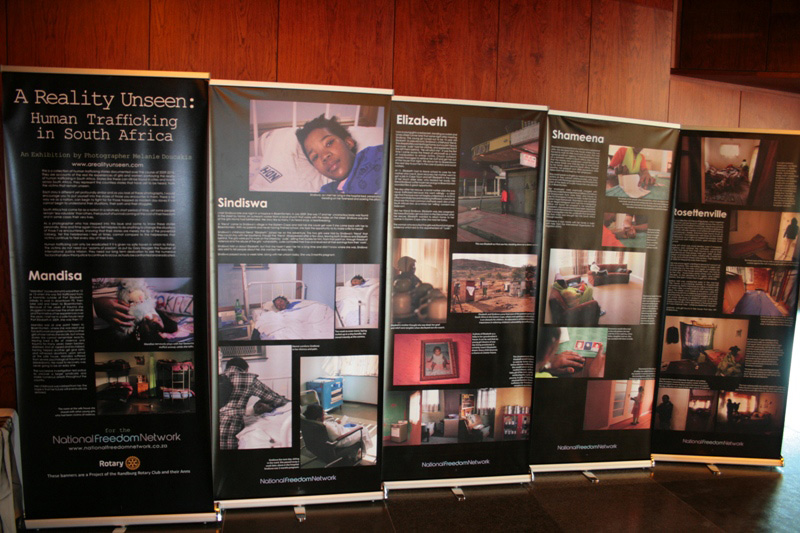 These banners tell local South African stories of human trafficking, and were put together by photojournalist Melanie Hamman-Doucakis for the National Freedom Network. Our goal is to eventually provide at least one set to each provincial network, for use by the Network Partners at their various awareness events and campaigns. At the moment the following provincial networks each have a set, please contact the following people to arrange use:
Eastern Cape (PE): Lt. Lynn Zola from Salvation Army at
sapecentral@telkom.net
Western Cape (CT): Salome Geiger from MeCAHT at
info@mecaht.org
KZN (Durban): Gloria de Gee from UCEC at
gloria@ucec.org.za
Mpumalanga (White River): Catherine Restiau from Iris Dignity at
catherinerestiau@gmail.com
Free State (Bloem): Prof. Beatri Kruger from UFS at
krugerh@ufs.ac.za
Gauteng (JHB): Marina Reyneke from NFN at
marina@nfn.org.za
Gauteng (PTA): Annelize Theunissen from Traffick Wise at
annelize.theunissen@om.org.za
Northern Cape (Kimberley): Jack Matuka from Department of Justice at
JaMatuka@justice.gov.za or
Zandile Deyi from the National Prosecuting Authority at the Thuthuzela Care Centre at
zdeyi@npa.gov.za
4) Ruby's Story: 60 second PSA
MoviWorld have taken up the worthy cause of counter-human trafficking and this is their first contribution: Ruby's Story of how sex trafficking is a reality in South Africa. This 60 second PSA was made for the National Freedom Network and Network Partner "InHuman Trade" and we are really grateful to the MoviWorld team for the time, effort, finances and energy that went into creating this awareness tool! This PSA is available for any Network Partner to use during your awareness talks and campaigns. Please note – TRIGGER WARNING for survivors!!